A little gem in Lucca
The house in Lucca is so utterly unique that it's hard to compare it to anything else. Situated near the edge of the historic part of Lucca right on the canal, its location couldn't be better. The historic house has been lovingly restored. All the ceilings have been hand-painted by the artist-owner, based on the original, nineteenth-century, and Art Nouveau ceiling paintings but every now and then a little joke has been added. It is very entertaining to find these little jokes by the artist!
The decor in the whole apartment is a unique mix of the historic roots of the building and the 1960s interior design making it truly unique.
Bookings
Price: from €130 per night [3 bedrooms, sleeps 5 ]
For bookings and availability, contact the lovely Elizabetta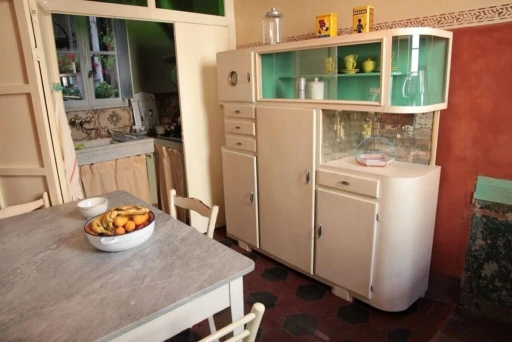 Like a Local
What I love about this home is that it feels that it makes you feel like a local. Especially in the morning, before the tourist arrives, Lucca is all yours! Start your day with a classic Italian breakfast: cappuccino and cornetto.
1. Find the neighborhood coffee shop
2. order "cappuccino e cornetto"
3. Choose the cornetto (Italian croissant)
Cornetto vuoto (empty) or ripieno (filled). The cornetto ripieno includes cornetto alla crema (with pastry cream), alla marmellata (with jam, marmalade or other conserve), al miele (with honey, this is often made with an integrale, wholewheat, dough), al cioccolato (with chocolate) or alla Nutella.
4. stand at the bar while having "la colazione" and perusing a newspaper(points for soccer match results).

The Space

Ground floor: entrance hall, 1960s kitchen with appliances and utensils, a small sitting room with TV, and a small but functional and cozy little courtyard.

Mezzanine: small bathroom with shower (functional and welcoming)

First floor: two double bedrooms: one overlooking Via del Fosso, the other with a small terrace overlooking the courtyard. Living room with sofa bed for any additional bed that opens onto a large terrace on the Via del Fosso, one of the most symbolic streets of the city inside the city wall.
Lucca

Lucca, with its medieval charm and unique twist – it's a city that has turned its ancient defensive walls into a magnificent tree-lined promenade, where you can cycle, jog, or simply picnic atop centuries-old fortifications. But what truly sets Lucca apart is its musical claim to fame – this is the birthplace of the legendary composer Giacomo Puccini, whose melodies still dance through the cobblestone streets, echoing from every corner and trattoria, adding a harmonious soundtrack to your gelato-filled strolls.
Beach
Forte dei Marmi, situated just a stone's throw away from Lucca, is a coastal jewel that embodies effortless Italian elegance. This glamorous seaside town on the Tuscan Riviera is renowned for its pristine sandy beaches, designer boutiques, and vibrant social scene. Nestled against the backdrop of the Apuan Alps, it has long been a favorite retreat for discerning travelers seeking a mix of relaxation and sophistication.
Pietrasanta
Often referred to as the "Little Athens of Italy," Pietrasanta has earned its reputation as a hub for sculpture and contemporary art. Its cobbled streets are lined with ateliers and galleries, attracting sculptors and artists from around the world who come to work with the renowned local marble. The town's historic center, adorned with medieval architecture, invites leisurely strolls, while its vibrant cultural scene, marked by art exhibitions and cultural events, ensures that Pietrasanta is a must-visit.

Nearest Airport
The closest airport to Lucca is the Galileo Galilei International Airport (IATA: PSA), which is located in Pisa. It's approximately 20 kilometers (about 12 miles) southwest of Lucca. From there, you can easily access Lucca by train, bus, or taxi.
Bookings
For bookings and availability, contact the lovely Elizabetta
---