Culinary Highlights
Art
Culture
Photography
Wine
My personal guide to Rome
Welcome to my personal guide to Rome. Having lived in this magnificent city, I had the opportunity to uncover its hidden gems. In this article, I am thrilled to share all my favorite places, carefully curated from my regular visits and unforgettable experiences.
Esquilino
I started off my first months in Rome in the neighborhood of Esquilino, a very nice and lively area with lots of great food places. I lived near Piazza Dante, and that was also where I would hop around from bakery to restaurant.
These were my favorite places around Piazza Dante:
Forno Conti & Co
The lovely people from Forno Conti & Co were my second family in Rome, as I visited them on day one and almost every day since. Their coffee, big smiles, and pastries never disappointed. And I can truly say now that they make the best bread and pastries in all of Rome (believe me, I tried a lot).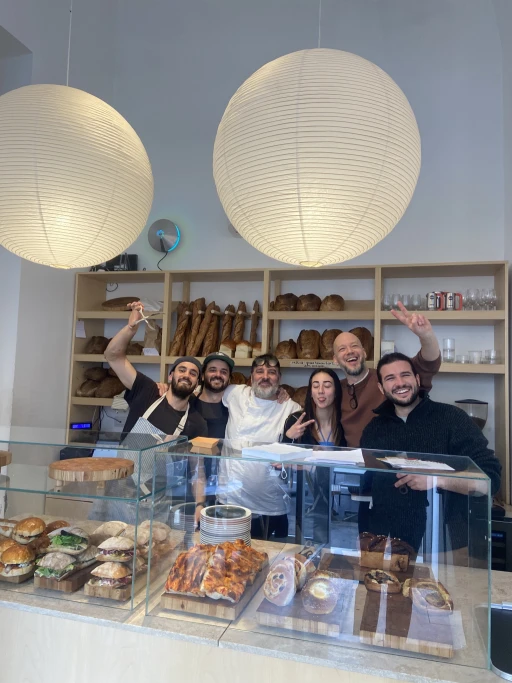 Machiavelli 64
Just around the corner from Forno Conti & Co, you'll find this amazing wine concept. They have very good natural wines and nice modern Italian food. Lovely people work here, and they always have a secret wine available for you to guess the grape.
Casa Dante
I spent a lot of hours at Casa Dante as their terrace is perfectly located in the sun, and inside it is very cozy too. So whether the sun is shining or it is a rainy day, this is always a good place to hang out from morning to night. It was also a great place to work on your laptop accompanied by a nice glass of red wine and a not-so-little focaccia.
Panella
Panella is a well-established place for all Romans. For me, it was the perfect place for a quick meal. Their coffee with Zabaione is a must-try.
Regoli Pasticceria
Another must-try is the Maritozzo from Regoli Pasticceria. The Maritozzo is a famous Roman pastry, and the one from Regoli is known as the best in the city.
Centre
It can be hard to find true treasures in the center, but with some help from locals and thorough searching, I found these little gems:
Al Pompiere
This one was recommended by my Roman friend, as it is a hidden gem in the Jewish Ghetto, one of the most beautiful areas of Rome but also very touristy. This restaurant is not touristy; it is mostly visited by Italians, and I love its classic look and feel. The food here is really good, though I have to admit that I did not try many dishes as I always stuck with Lemon pasta and Carciofi alla giudìa, the Jewish-style artichoke, one of the best-known dishes of Roman Jewish cuisine.
Old bar Pasticceria Mariani
This place is one of the best-kept secrets. The style of this place is so cool and retro, and it is never crowded here. I loved having aperitivo at this place, especially as the terrace is perfectly sat in the sun at that time. It's also a good place for coffee in the morning.
Roscioli
Okay, it's a bit touristy, and there is always a line. But the hype is definitely deserved because their bread is truly amazing! They have a restaurant, bakery, and cafe.
Chez Dede
Undeniably the most beautiful shop in Rome. However, be warned! You'll want to buy everything, but it is not cheap.
Forno Monteforte
I loved walking the little streets around this place; therefore, it was a perfect stop for me for a quick focaccia, cappuccino, or a glass of wine. If you are lucky, you can grab one of the cute seats in front of the restaurant.
Abruzzi
A favorite of my Roman friend. It's a perfect Roman classic with a timeless interior.
La Barrique
This one is actually located in Monti, on my favorite street for vintage shopping actually. It's a very nice place for dinner, and they have a good selection of wines. I had dinner here a couple of times, and it never disappointed me. Also, a good thing is that they open early, so it's perfect for an early dinner before the opera (which is located nearby).
Eitch Borromini
The roof of this hotel, located at Piazza Navona, is the best spot to watch the city from above, accompanied by an € 18 euro Aperol. But that is the price you pay for this amazing view, and it's worth it, especially during golden hour, it's magical. It feels like you've walked into a scene from La Grande Bellezza!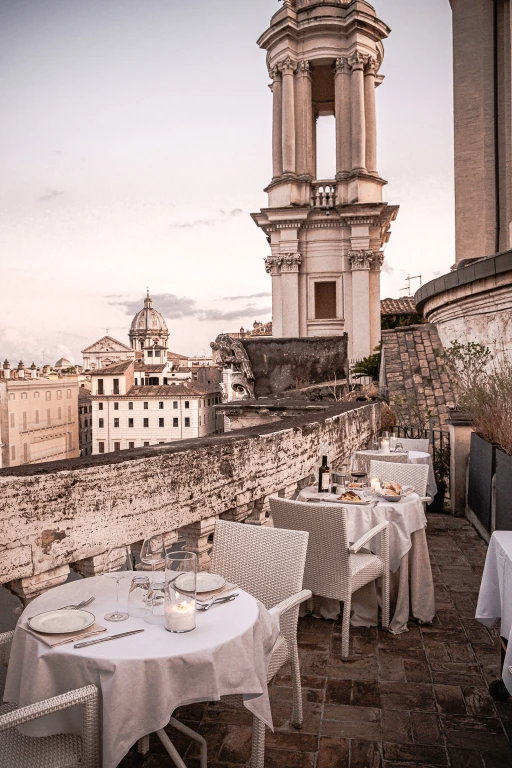 Prati
This is a very charming neighborhood in Rome. I loved it for its spaciousness and biking lanes. It offers a delightful blend of elegance and liveliness with stylish boutiques and upscale restaurants, especially when you go a bit to the north of this neighborhood, away from the Vatican, where you find fewer tourists and more locals.
La zanzara
This one is perfect if you want to visit the Vatican but would love to skip the touristy restaurants around. It has the feeling of a chic French bistro, which I love. The food is amazing and very classic, with bread from Roscioli. It's a perfect place for a fancy lunch, but they also make amazing cocktails, so I would recommend it for aperitivo or after-dinner drinks as well. The first time I came here, the owner of 021 took me and Ellen there, and I have been coming back for many cocktails and lunches ever since.
Cacio e pepe
This one was actually recommended by a Dutch friend who stayed near this restaurant. As it is the classic dish of Rome, and as I loved the area around, I think it deserved a spot in here. The restaurant has a lovely terrace, and so do most of the restaurants around, as the neighborhood here is set up much wider than the rest of the city. Another good thing is that there aren't many tourists here. When we were having lunch here, there were only Italians.
Sant'Isidoro Pizza & Bolle
I just love their concept so much: pizza and bubbles! Their pizzas are seriously good, even rated among the top 100 pizzas! They serve Neapolitan pizzas with a perfect moist crust. Their wide choice of pizzas is also excellent, some were so delicate, a perfect combination with the bubbles.
Trastevere
I would say this neighborhood is quite a contradiction to Prati. It's nothing posh but a real working-class neighborhood, dominated by artists and young people. In this old working-class neighborhood with narrow alleyways and medieval houses, it becomes lively, especially in the evenings (and due to the many tourists). You have to know where to go, as there are way too many restaurants and bars, but let me guide you!
San Calisto
This place is known by all Romans. It is the place where we would spend all Sunday afternoon drinking €1.50 beers and watching people pass by in the square. Some of my happiest Rome memories are from here as you would always run into people or meet new people on the always-packed terrace.
Porte Portese Market
This is where we would start our Sunday mornings, exactly at 9:00, to find some of the best bargains. We would always start at the little side street by Via Ippolito Nievo. The whole game is to find the best pieces of clothing for less than € 2euros. Around 11.00 when the markets are getting too busy we would slowly move our way to San Calisto.
Da Enzo
I think this is where I had my best pasta ever! It is surely not a hidden gem, as unfortunately, everyone knows their way to this little trattoria. There is always a huge line outside. However, it is definitely worth the wait, and they serve drinks while standing in line, so it is actually not that bad.
Latteria Trastevere
A really nice natural wine bar that serves great appetizers and food. It's actually one of the less touristy places around.
Seu Illmuninati
Also, not a hidden gem, as it is ranked number 7 in the top 50 pizza places and known as the best pizzeria in Rome. You have to book in advance, and you will only get 1.5 hours in the restaurant. But I loved the experience, especially the dessert pizzas, which are a must-try!
Big Star Cafe
If you're getting tired of all the tourists, this one is a bit further down in Trastevere and more of a place for locals. Nothing special, but it's a nice place to hang out.
Garbatella/Ostiense
These neighborhoods are surely hidden gems. I loved going there on sunny spring days; it feels like you are in a completely different city.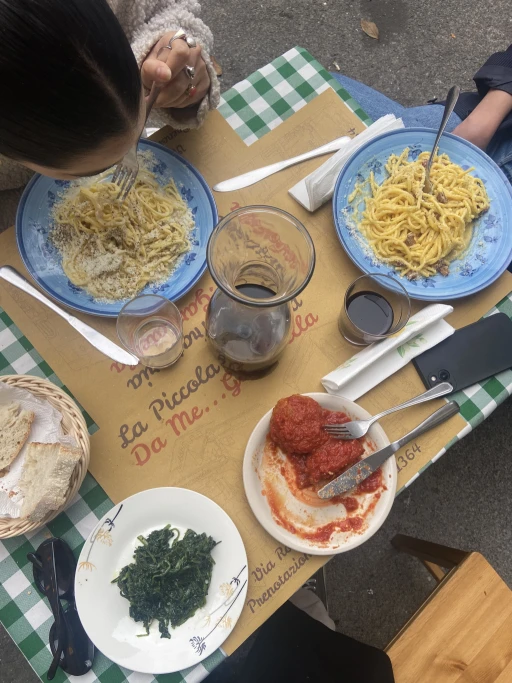 Marigold
Before heading to Garbatella, you will pass the neighborhood of Ostiense first. Here, you will find my favorite place for brunch in the city. They have amazing cinnamon buns and other brunch dishes. It's the perfect place to start a day walking through Garbatella.
Tre di Tutto
This is a very nice restaurant located in a cute little square in the middle of Garbatella. It's a nice place for a drink on the terrace. For the rest of Garbatella, I would recommend just walking around and exploring by yourself; there are many great hidden restaurants and bars.
Eataly
I am just such a big fan of Eataly; it's definitely the best supermarket in the world. Here, you'll find FOUR floors of the best Italian food and wines. I always get a bit overstimulated visiting it, but I highly recommend going shopping here. Although it is definitely not a cozy little hidden gem, haha.
Trieste
This is actually a really nice neighborhood near Villa Borghese.
The Hoxton
I always feel so at home in the lobbies of Hoxton hotels, but especially here in Rome. The people were always so friendly, and there was a great atmosphere. You would never get that "go away with your laptop" look. I spent many days working here and walking around the neighborhood. Rome does not have many cafes where people work on their laptops, but the Hoxton was actually the perfect place to do so. Afterward, you could stroll around Borghese Park or the lively neighborhood around. I really liked this area of Rome.
Fiaschetteria Marini
I visited this restaurant two years ago when I was staying at the Hoxton, and I loved it so much. So when I moved to Rome, I asked them if they would need an extra waitress. Without knowing any Italian words, they hired me. There I was, working with only Italians, but I LOVED it. They are my Roman family and made me feel so welcome. I brought all my friends here, and they all loved it. So this is definitely a MUST VISIT. They have all the classic Roman dishes and natural wines, and the people are so, so friendly.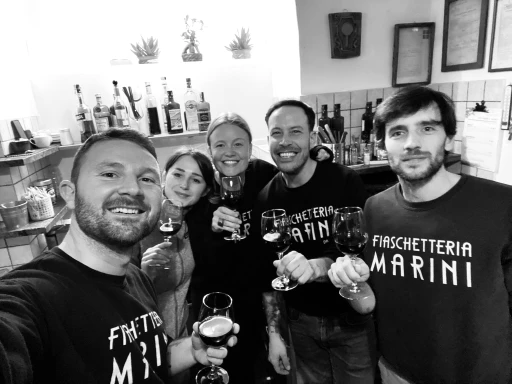 San Lorenzo
During the last two months of my stay in Rome, I lived in this lively student neighborhood of San Lorenzo. At first, it might seem a bit dodgy, but it is actually such a nice neighborhood to live in and much cheaper than the rest of the city. I think it is become hipper since the opening of Soho House two years ago.
Caffe Villa Mercede
I might be a bit biased as it was located right next to my house, and I would not travel all the way through the city just to get here. But I just loved this place! There were always people sitting outside from morning to evening (even if the weather was bad), starting with coffee and amazing pastries, and then slowly changing to Campari and beers.
Soho House
A perfect spot; the café downstairs is usually open for everyone, not just for members. Otherwise, there is a friend membership (which is only 15 euros a month) that allows you to work there, and you can even join some events and enjoy the cinema. As this was literally one block away from my apartment, it truly felt like a second living room.
Osteria Dei Colli Emiliani
Here, I would go for dinner at least once a week, as it was literally just next to my house, and I loved the vibe there. Instead of cooking, I would just have pasta and a ¼ liter of red wine. It was always for less than 15 euros. I would bring my book and listen to all the Italians having dinner there. For me, this sums up a very well-spent evening.
---