Cy Twombly's Artistic Retreat in Gaeta
Close to Itri, you'll discover the coastal town of Gaeta—a charming Italian village perched in the hills, just 100 km north of Naples. This beautiful coastal town, Gaeta, is where Cy Twombly found much of his inspiration and created some of his amazing artworks in the 20th century.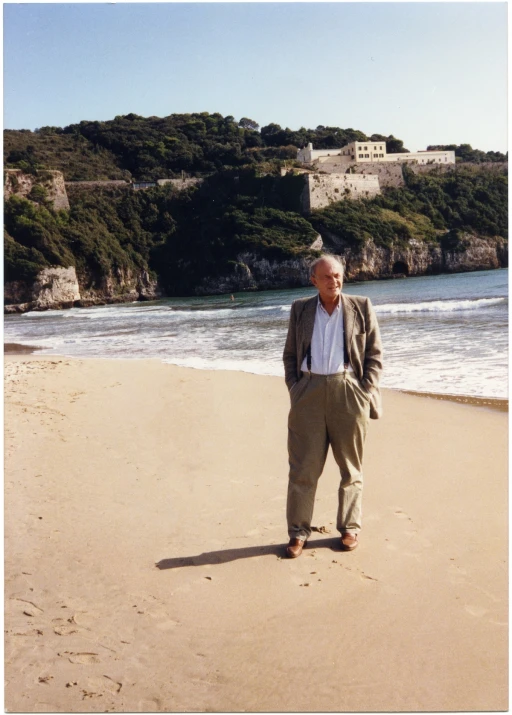 "Cy Twombly sulla spiaggia di Gaeta", Gaeta, 1986 © Fondazione Nicola Del Roscio, courtesy Archives Fondazione Nicola Del Roscio

In 1979, it was Twombly's friend and assistant, Del Roscio, who brought him to Gaeta. Del Roscio, who had been Twombly's right hand for nearly half a century—serving as his assistant, archivist, and close companion until the artist's passing in 2011— had spent summers in Gaeta as a teenager with his parents.
"the landscape — pale green grasses, fishing boats in the harbor, full-spectrum sunsets — had forever imprinted itself on his imagination"
Ever since his return to Gaeta in 1979, bringing Twombly along. He has never left. At 70 years old, Del Roscio still finds enchantment in his ancient house spread across six acres, surrounded by a lush garden boasting a collection of 142 palm species from around the globe.
Twombly, initially resided in a local hoteal and later in his own nearby home and studio during the several months he spent in Gaeta. From there, he gazed out at the Tyrrhenian Sea, creating some of the most significant canvases of the 20th century, including the renowned "Four Seasons" series. With the influence of prominent figures from the art world who visited over the years, Twombly played a pivotal role in placing this quaint fishing village on the cultural map.

Cy Twombly, Quattro Stagioni (Four Seasons) series (1993-95). Photo via Tate.
Gaeta was the perfect place for the painter. Twombly would tell stories to visitors about how Hadrian, Catullus, and Cicero were connected to the town. He jokingly compared it to East Hampton from 2,000 years ago. When Del Roscio and Twombly got there, Gaeta was a bit run-down, but they liked that it wasn't fancy. The lack of pretension suited them. It was an ideal fit for an artist like Twombly, who drew inspiration from a mix of classical mythology, playful hints, and city graffiti.
In the story of Twombly's life, Gaeta isn't just a backdrop—it's a canvas painted with beauty and inspiration. This coastal gem, with its sunny landscapes, ancient charm, and breathtaking sunsets, captures the heart of Gaeta. It's a place where history meets modern creativity, where the sea's whispers blend with the strokes of an artist's brush. Gaeta, with its simple yet enchanting beauty, is a living testament to the magic of a small Italian village that embraced a master, becoming a vital part of the artistic legacy he left behind on canvas.
want to feel inspired just like Twombly, Gaeta is only a 15 minute drive from Itri, where you found two of our beautiful villas,
Would you like to have more information, please contact us at info@plinius.homes
*Inspiration for this article was found on: https://www.nytimes.com/2015/03/26/t-magazine/nicola-del-roscio-cy-twombly-gaeta-cultivating-genius.html
*Pictures by Manfredi Gioacchini
---